Ladies News
Burns Competition
Captain Mary decided it was high time we held a Burns Competition – and this took place on Wednesday 26th and Saturday 29th January in celebration of Ayrshire's world-famous bard. This new addition to our golfing schedule was played as a charity Florida Scramble over the Fullarton Course in Troon involving teams of three.
The ladies who played on Wednesday enjoyed a pleasant morning, however the teams on Saturday morning had to cope with winds gusting to 50 plus miles per hour plus the odd shower! Despite this, one of the Saturday teams came in, looking very windblown, but with the best score – net 63.3. Congratulations to Louise Thrippleton, Emma Stirling and Anne Fraser.
The good news is that we raised £202 for the Ayrshire Hospice – a huge thanks to all the club members and others who donated to this great cause.
The pictures are as follows:
The first team about to tee off on the Wednesday morning – Captain Mary Senior, Vice Captain Margaret McConnell and Maria Watson.
Another group of Wednesday ladies getting ready to play, from left to right Lindsay Smith, Jill Kennedy, Anne Wilson, Ann Agnew, Linda Zorget and Elsie Mundell.
Louise Thrippleton and Emma Stirling, two of the winning team, on the 18th Hole.
The clubhouse decorated for the event.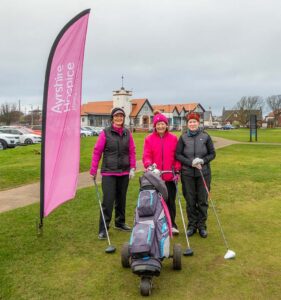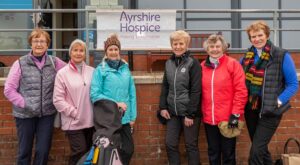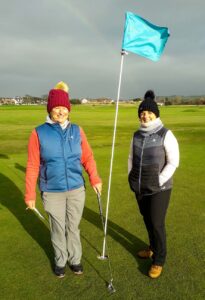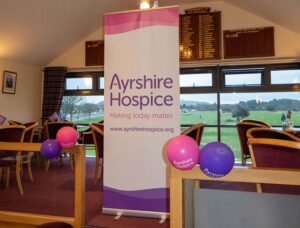 Ladies' Triam Competition 2021
Our
annual Triam Competition was held on Lochgreen on 12th August 2021.  This
was a different format from previous years due to Covid restrictions, with
members inviting 2 guests to play with them.  Pics show the first team out
along with our volunteer starter for the day, Charlie Watson, a 'weel kent'
member of the Club;  Jean and her guests heading out from the
Clubhouse;  and our Lady Captain Mary, Lady Secretary Elsie and Committee
Member Susan.  We raised £518.87 for our charity, Irvine and Troon Cancer
Care.  In addition, the Senior Welbeck Gents raised a further £80 from one
of their events which was added to the sum handed over to Irvine and Troon
Cancer Care Chair, Dick McLachlan.  Dick
was delighted was delighted to accept such a healthy donation as Irvine &
Troon Cancer Care has faced increased costs linked to Covid-19.
The
Triam winners were Jill Kennedy, Claire McGinty-Scott and Magaret Miller with a
score of 64.  In second place were Jan
Flint, Andrina MacMIllan and Julie Mackie with 65, and in third place were Cath
Ramsay, Beth Arnold and Maureen Knox with a score of 67.  Fiona Collier won Nearest the Pin on Hole 6
(Bronze), Clare Capocci won Nearest the Pin on Hole 10 (for all categories),
and Alex Glennie won Nearest the Pin on Hole 15 (Silver).  Congratulations to all!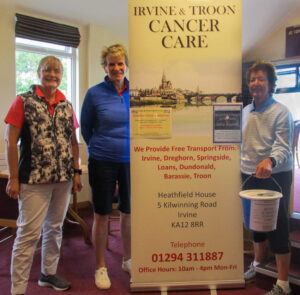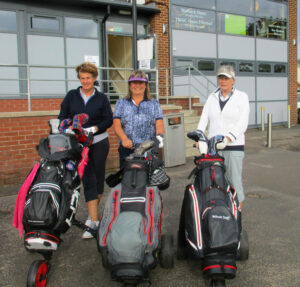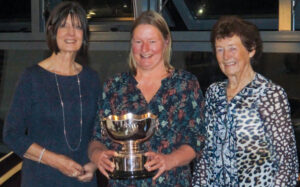 Our New Club Champion
Louise, our new Lady champion, received her trophy at the prizegiving from Captain Mary and Vice Captain Margaret.
Prizegiving 19th November 2021
For the first time we held the Ladies' Prizegiving in our Clubhouse – it was a great evening with a great turnout, despite Covid!  Pic shows all the prizewinners who were able to attend.

Christmas Competition
Troon Welbeck Ladies got December off to a great start with their ten hole Christmas golf competition on the Fullarton course as is clear from the photos!  Our Wednesday winner was Jan with Vice Captain Margaret the runner up.  Our Saturday, and overall winner, was Tracy Macpherson – as per the pic.  Congratulations to all 3 for a great performance.  We all enjoyed a lovely selection of Christmas goodies in the Clubhouse afterwards to warm us up!  Thanks to Flora and Maria for organising these events so well.